---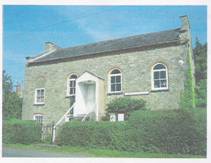 For information please call Ken Hart 01684 574572 (Pastor) or Sherry Rickard 07542 901970, (Chapel Secretary).
Services at WR13 5HX every Sunday at 10.30am, Communion Service on the first Sunday of each month.
A very warm welcome awaits you
The Chapel building was erected in 1823, the worship area being upstairs, and the original downstairs accommodation now being meeting rooms. The worship area, which includes a gallery, can seat about 120 people. There are many fascinating historical features, including part of the original downstairs stabling for the preacher's horse! There is a small graveyard attached whose usage dates from the earliest days of the chapel to 2010.
---