---

September newsletter - We are delighted to announce the results of our "Most Sponsorship collected Competitions".
Adults -
1st Prize to Les D of Queenswood, Cradley who collected £100.
2nd Prize to Anne F of Whitmans Hill Farm, Storridge for £50.
Under 17's
1st prize to Cameron D of Kings Orchard who collected £30
2nd prize to Kim K of Buryfields who collected £28.
All thanks to these four people and everyone else who has collected sponsorship as well as EVERYONE that made it happen in some way or another and we are delighted to be able to announce that the grand total is now over £10,000. and sponsorship is still coming in. Please do let us have any sponsorship that you have collected and not yet been able to hand in the books are still open!
This is an outstanding and exciting result and it is great to think there will be £6,000 going into the new School Project Fund and £4,000 to Cradley Church and a bit more to each at the rate we are going. WELL DONE ALL!
Sarah A

Cradley Midsummer Music Marathon August Newsletter report

See Sarah's pictures of 19 July 2004.

Thanks to everyone who made this great event possible. As many of you will know I believe passionately that the Church should be the focus of the whole community as it was when many of our Churches were built in medieval times. This ambition was certainly fulfilled during the weekend of 26th and 27th June - it was a joy to see the Church of St James' the Great brimming with life for well over 26 hours.

Despite the less than perfect weather on Saturday we had a constantly full church, wonderful stalls, tremendous music, over 100 singers for Mozart's Requiem from scratch, and likewise for the Sound of Music. There was a constant flow of drinks, delicious meals - Ploughman's lunches - Strawberry Cream teas - Pig Roast.

The Celebration Service on Sunday morning brought us all a spell binding surprise with Roger Harington's Rap Sermon and we ended with the Grand Raffle Draw in the Sunshine and a delicious light lunch.

THANK YOU EVERYONE - WHAT A WONDERFUL COMMUNITY EFFORT - IT COULD NOT HAVE BEEN ACHIEVED WITHOUT THE HELP AND SUPPORT OF A HUGE NUMBER OF PEOPLE .

Before we can announce a final result we need to receive everyone's sponsorship. The Marathon was based on offering free entry to all the exciting events that took place over the 26 hours but every single person who is involved in making it happen from singer and musicians to cooks, planners or stallholders & all things in between should try to collect a minimum of £10 sponsorship. Please could you let us have your sponsorship by first week in August and then we can announce who has won the prizes for the most sponsorship collected and the final figure. Thank you again for your support.

Sarah Ashton

Sat 26 Jun 10am until noon Sunday 27 June 2004, 2nd Cradley Midsummer Musical Marathon. 26 hours of non-stop music, fun and entertainment in aid of the new school and the church. See the Programme leaflet of 8 June 04. Many thanks to Sarah A for her energetic vision getting the event rolling. Not forgetting the too many to mention faithful who are always reliable in running and supporting Church and School functions - we know who you are. And also YOU who came along to support Church and School - we hope you enjoyed yourselves! Pictures, updated 19 July 2004, after the press release...

ST. JAMES THE GREAT CHURCH, CRADLEY

CRADLEY C of E SCHOOL

PRESS RELEASE

RAP SERMON PROVIDES MUSICAL MARATHON CLIMAX

The Sunday morning sermon slot doesn't always rate as the high spot in many church-goers' minds but an entire sermon in 'rap' caught the undivided attention of a capacity congregation at Cradley's Celebration Worship on Sunday (27th June).

Visiting preacher, Rev'd Roger Harington, the founder and a member of the Jabbok Theatre Company in Leeds, provided the climax to Cradley's twenty-six hour Musical Marathon with his amazing rap sermon.

"It was a brilliant tour de force," said Cradley's Rector, Prebendary Sam Ashton. "In reminding us of God's love for everyone shared with us down through the millennia, from Moses and beyond, through the prophets, to Jesus, and St. Paul and right up to Cradley today, Roger captured everyone's total and undivided attention. It's a rare sermon that does that. It was inspiring, and fun too, and yet it got the message across so clearly. It was superb."

The Musical Marathon began at 10am on Saturday morning (26th June) with Cradley's Church bells pealing out and its organ in full voice and ended, 26 hours later at 12 noon on Sunday (27th June), after the Celebration Worship service. The Church's own orchestra, Jimmy's Band, led the music for the Service. They were joined for the opening hymn, 'Amazing Grace', by visiting bagpiper whose pipe music had proved a hit throughout the event.

Every kind of music was on offer during the Marathon. Local musicians and visiting musicians, young children and adults, soloists, choirs and groups sang, played or recited providing classical music, jazz, blues, folk song, heavy metal rock, pop songs, songs from the shows, and pantomime ditties. Amidst all of this Cradley's church choir and Sine Nomine sang the traditional Church offices throughout the day and night.

The village School's choir and orchestra proved a real crowd-puller on Saturday afternoon as did an abridged concert version of the musical 'Oliver' - a combined effort by the School's pupils, staff, parents, and Governors. Leading roles were played to perfection by Kit Holden, Katey Knight, Eloise Van Vuren and Kimberley Knight. They were ably supported by the adult leads Tom Van Vuren and Nicky Knight, who produced the performance along with her husband Stuart.

The ever-popular 'Sound of Music' proved another crowd-puller. Just before the bewitching hour of midnight, it drew a good crowd for the Sing-Along version of the show. Dotted around the audience were nuns' habits (some masking some very masculine features!), lederhosen, Nazi soldiers, 'whiskers on kittens', along with a variety of other costumes, and 'edelweiss' was in the air as the audience sang all the well-known songs. The early hours of Sunday morning provided a stage for some very talented and musically gifted young musicians, among whom The Full Rokirkski were splendidly versatile, and Jamie McAleese a gifted guitarist.

Alongside the Marathon's non-stop musical events a fete refused to be undaunted by the frequent rain showers. Stalls, games galore, a balloon race, frog racing, steam engines, Scottish dancing, craft stalls and art displays filled the Church grounds and Church Lane. And with artistes and audiences operating around the clock the bar and non-stop refreshment stall in Church filled a constant need, together with a pig roast.

Organiser Sarah Ashton said: "It was an amazing weekend - incredible! What was so impressive was the amazing range of talent on display, not least among the young musicians, and also the tremendous community spirit the whole event generated. After 26 hours we were all exhausted. It involved an immense amount of effort by a great many people, in rehearsing and performing, planning, preparing, and all the last-minute staging of the Marathon but there's no doubt everyone felt it was entirely worthwhile - and a resounding success. We owe a great debt of thanks to everyone who took part in what was a brilliant Musical Marathon."

Proceeds from the event are being shared between Cradley's New School Fund and the Church. As each participant in the Marathon was expected to generate sponsorship to take part, the final results will not be known for a week or two - but the organisers are "encouraged and optimistic"

Sarah's pictures of 19 July 2004...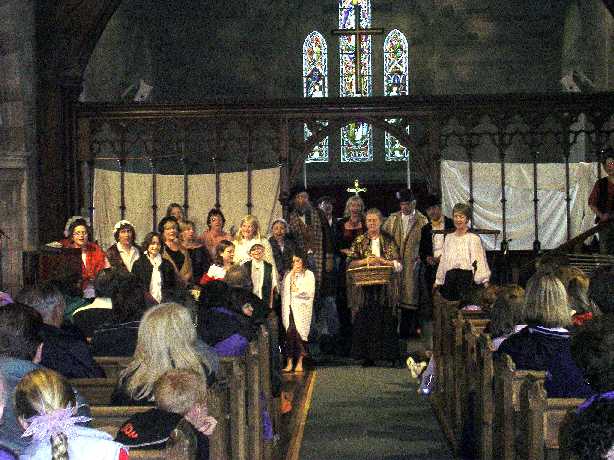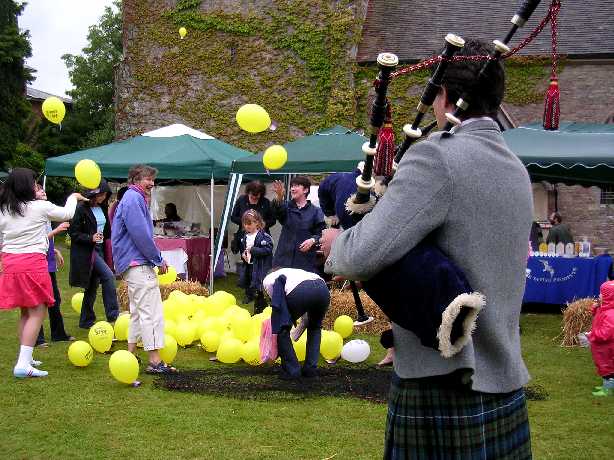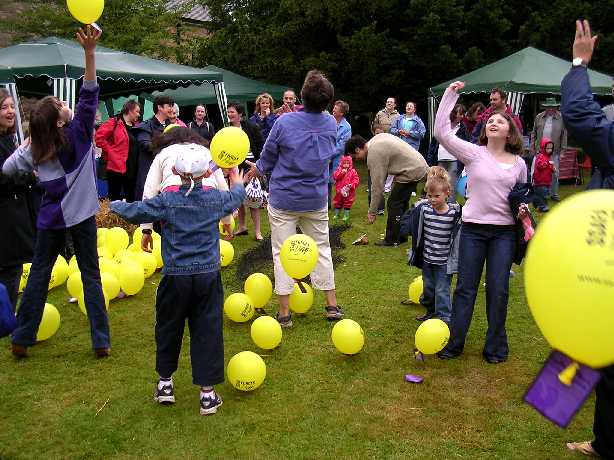 Webmaster's pictures...
Cradley Midsummer Music Marathon was a full house on Saturday; these heads were turned to listen to Oliver!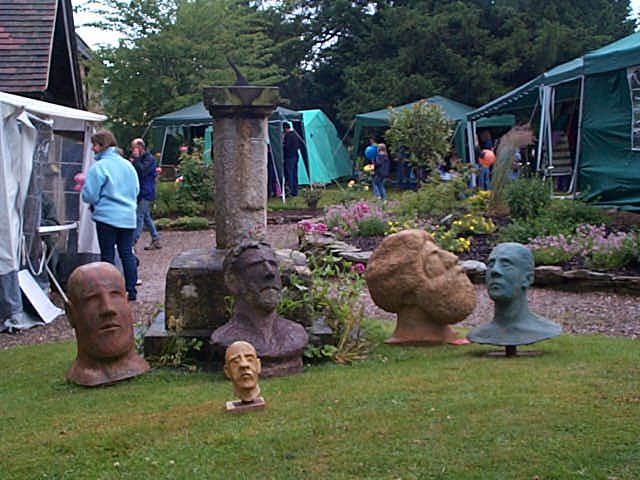 Sitting on a bale of straw with a pint, watching the fire-eater and listening to Bongo Drums. Who needs Glastonbury?
The Remains rock band has us rockin' and rollin' in the aisles!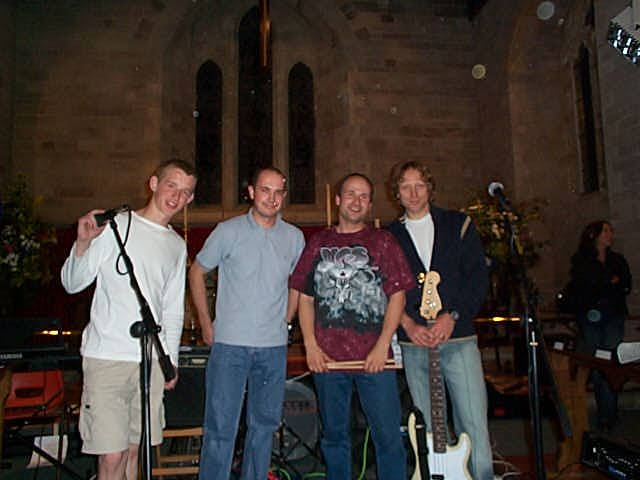 Preparing for the Sound of Music, another full house with plenty of heckling from the back!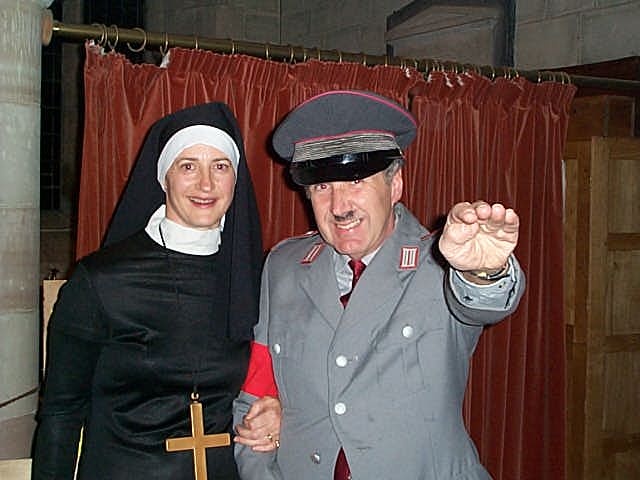 Celebration Service with Jimmy's Band; the sermon by Roger H of a brief history of Christianity in rhyme was down to earth and thought provoking. And Sarah A was presented with flowers! And it all ends with the prize draw...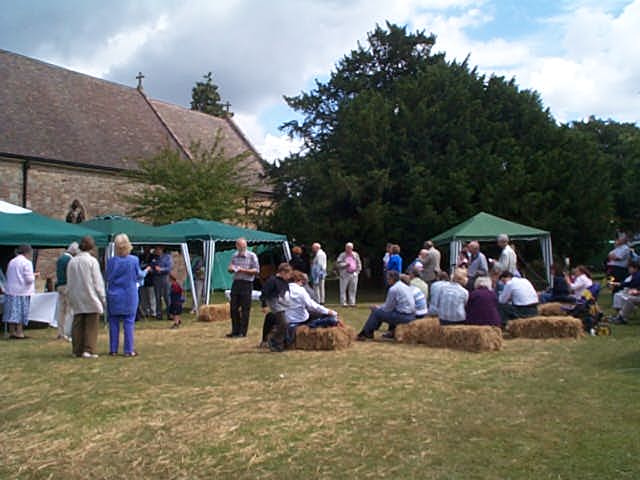 Grant us a vision, Lord:-
To see what we can achieve, to reach out beyond ourselves;
To share our lives with others, to stretch our capabilities;
To increase our sense of purpose, to be aware of where we can help;
To be sensitive to your Presence, to give heed to your constant call.
(David Adam)
---


Also by this webmaster, see Ledbury Deanery and Glan Gwna Holiday Homes Association.