---
The ANNUAL PARISH MEETING was held in Storridge Village Hall 7.30 p.m. on Tuesday 27th April 2004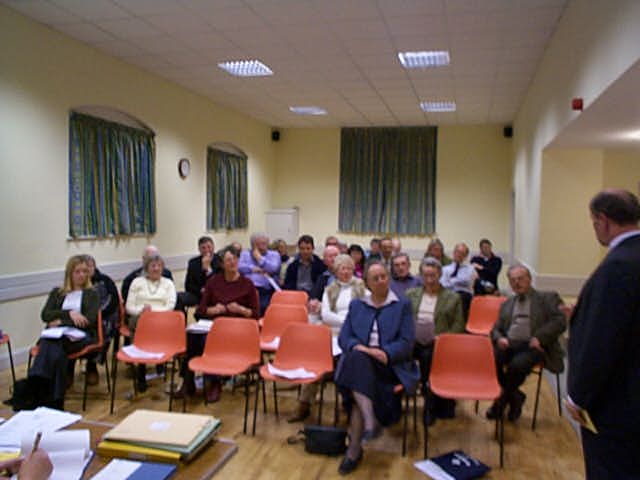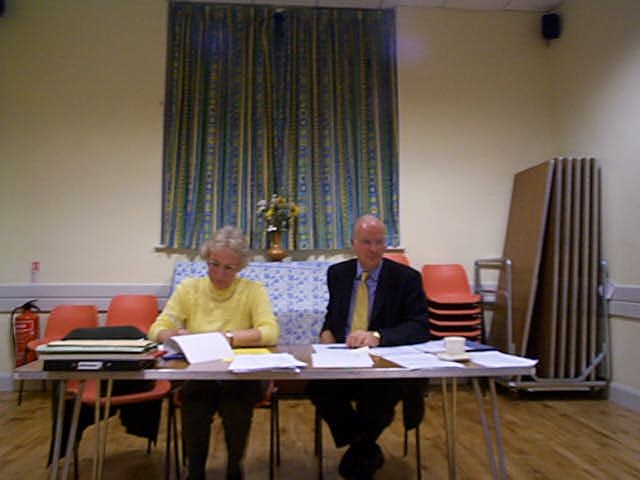 School to be focus for all
CRADLEY'S new primary school will be a place for the whole community to use, according to its head teacher.
Speaking at the village's annual parish meeting. Rev Dawn Hyett was enthusiastic about the future of Cradley CE Primary School, which opens on a new site near the Bury-fields estate in September. "My vision for Cradley school is to offer opportunities, not just opportunities to children but to offer opportunities to all those people involved in our community," she said.
The new building, currently under construction, will have a sports hall that can be cordoned off for community use after school hours.
Mrs Hyett said a number of sporting activities such as football, hockey tennis and rugby were currently being run both inside and outside curriculum time at the existing school site.
"When we move to the new school, I would like to be able to open up these opportunities for the community to take part in these activities as well," she said, stressing the importance of adults in the community offering their skills as coaches.
"It's important children see what people in the community have to offer."
"We need to be enthusiastic about school sports and encourage children to go forward."
The new hall, with its kitchen and toilet facilities, will also be suitable for use for events, meetings and plays as it will have staging, and up to date lighting and sound systems.
"I would like Cradley CE Primary School to be the place where people say I'm going off to do something or other'," said Mrs Hyatt.
Talk on contract
CRADLEY doctor Bruce Herriot talked about the new contract for General Practitioners at the village's annual parish meeting on Tuesday. Dr Herriot simplified the implications of the complex contract for the audience.
Chairman in precept probe
THE chairman of Cradley and Storridge Parish Council was questioned about an increase in the precept at the village's parish meeting on Tuesday.
The council announced a precept of £17,500, compared with £8,000 the previous year.
Storridge resident Don Hurle asked chairman David Creed-Newton what the money would be spent on.
Mr Creed-Newton said the Parish Plan, which was "hovering on the edge of publication," would explain more fully where the money was going. He listed playing field equipment, car parking improvements at Cradley Village Hall, a community bus, footpaths and winding the church clock as some of the expenses.
He said a contingency fund was also needed but said villagers would be consulted on major spending projects.
Ack Jo Lafferty, 30 April 2004
© Copyright 2002 Newsquest Media Group - A Gannett Company
AGENDA
1. "Cradley School and the community" - Rev Dawn Hyett, Head teacher of Cradley CE Primary School. See New Primary School.
2. Annual report from the Chairman of Cradley Parish Council, Mr D G Creed-Newton
3. Report on the draft accounts for the current year and the audited accounts for 1st April 2002 to 31st March 2003, as prepared by the Clerk to the Parish Council
4. Report on the accounts of the Charities of Richard Hill and Others, prepared by Mrs D Cale.
5. Report from Storridge Village Hall Management Committee from Mr F A C Beard.
6. Report from Cradley Village Hall Management Committee from Mr C Lowder.
7. Presentation from Mrs M White, Chairman of Cradley WI on the role of the WL. Leaflets were distributed, including the ACWW.
8. Presentation by Dr B Herriot on the GP contract and its implications.
9. The Chairman will introduce the guest speaker, Mr Jim Lambert, Secretary of Herefordshire Football Association. See the FA.
10. Vote of thanks from Mr Frank Hare.

---