Calor Gas Village of the Year competition.
Cradley Village of the year 2002 for Herefordshire, also winner of IT category!
The Directors of Calor Gas Limited invited Margaret W and Tony C as Cradley representatives to the Village of the Year 2002 National level prize-giving lunch on 10 December at The Millennium Hotel, Mayfair. The main awards were presented by HRH The Princess Royal; the awards compere was John Humphrys. Those sitting at our table included representatives from ACRE, The Post Office and the UKVillages judge for the Cradley IT submission. Apparently, she had lost sleep over what was a difficult judging decision but the winner of the IT section had better IT facilities available in the village.
CALOR VILLAGE OF THE YEAR COMPETITION 2002 FINAL RESULTS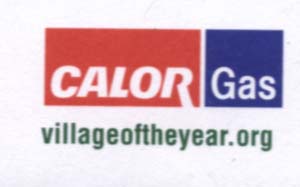 Overall Winner - Sutton (Cambridgeshire) - Eastern and Home Counties
Special award for the overall winner of the business category, from Calor in association with Business in the Community - Grayshott (Hampshire) - Southern and South East England
Regional Winners
| | | |
| --- | --- | --- |
| Village | County | Region |
| Glaisdale | Yorkshire | Northern |
| Jacksdale and Westwood | Nottinghamshire | Central |
| Llanddarog | Carmarthenshire | Wales |
| Otford | Kent | Southern and South East England |
| St Neot | Cornwall | South West and Western England |
| Sutton | Cambridgeshire | Eastern and Home Counties |
Regional Category Winners

Northern Region

Village

County

Category

Aston upon Trent

Derbyshire

Young People

Broughton-in-Furness

Cumbria

Business

Glaisdaie

Yorkshire

Community Life

Goostrey

Cheshire

Environment

Holbeach St Mark's

Lincolnshire

Older People and Information Technology

Central Region

Appleby Magna

Leicestershire and Rutland

Young People

Bettws y Crwyn

Shropshire

Community Life

Jacksdale and Westwood

Nottinghamshire

Older People and Environment

Long Clawson

Leicestershire and Rutland

Information Technology

Stanford in the Vale

Oxfordshire

Business

Eastern and Home Counties

Great Chesterford

Essex

Business

New Buckenham

Norfolk

Community Life

Redbourn

Hertfordshire

Older People

Sutton

Cambridgeshire

Young People and Information Technology

Southern and South East England

Ardingly

West Sussex

Community Life

Burton Bradstock

Dorset

Information Technology

Grayshott

Hampshire

Business

Lingfield

Surrey

Young People and Older People

Sedlescombe

East Sussex

Environment

South West and Western England

Moretonhampstead

Devon

Business

St Neot

Cornwall

Community Life, Young People and Older People

Upton St Leonards

Gloucestershire

Environment

Wrington

Avonside

Information Technology

Wales

Aberhafesp

Powys

Older People

Llanddarog

Carmarthenshire

Young People

Raglan

Gwent

Business

Rossett

Wrexham

Environment

St Florence

Pembrokeshire

Information Technology

Ystradowen

Vale of Glamorgan

Community Life

22 October 2002, judging for village regional competition. About 42 villages are entered overall with about 21 also in the IT category. The judges had five presentations (CMS Support Group, Village School old and new, Village Hall project, Fund Raising events, Village Design Statement and Parish Plan) followed by a car tour of village pints of interest. The judges were very pleasant and the presentations were made in a good atmosphere. Since this page is in reverse time order you already know the outcome!

August 2002. Front page news for CRADLEY! At the presentations in Hereford Town Hall on Thursday 29 August CRADLEY, represented by Margaret White, was judged as the overall winner of the Herefordshire Village of the Year competition. Many thanks to all those who helped achieve this. Proposals have been sent for the South West Regional competition (Devon, Cornwall, Somerset, Gloucestershire, Worcestershire and Herefordshire)... and then maybe on to the National judges!

The Calor Gas Herefordshire Village of the Year competition 2002 was organized by the HEREFORDSHIRE FEDERATION OF WOMEN'S INSTITUTES. The Herefordshire presentations were given in the following order, with the Information Technology award being presented to this village web site (see "about this site"). My personal thanks go to John Drummond for most of the photographs on the site (I only take snaps!). There is a copy of the certificate below...

Best Kept Village

Ewyas Harrold

Special prize
Church Conversion and Community Centre

Mansel Lacey

For younger people

Birkhill & Tillington

For older people

Longtown

Environment

West Hope

Community

Wellington Heath

Business

Marden

Information Technology

Cradley

Overall winner,
Village of the year

Cradley

Runner up

Marden

---