Home

,
Cradley and Storridge village diary archive
| | | |
| --- | --- | --- |
| | Having a party? Why not hire the Cradley Village Sumo Wrestling Suits as used at the 2016 Cradley Village Fair? Two adult and two child suits available. £50.00 for the set, or £25.00 for 2 children's  suits to outside organisations, and £30.00 / £15.00 to local residents. Contact Ian Bailey on 01886 884682 or Jan Dampney on 01886 880316. | |
St David's Day celebration at St James Church, Cradley on Saturday 1st March 2014 with Worcester Male Voice Choir, Shelley Fairplay (harpist) and an excerpt from Under Milk Wood (Dylan Thomas).To be born Welsh Is to be born with Music in your blood And poetry in your soul.
3 Villages Festival 24/26 June 2011; the DVD video version of the play "Mystery and Merriment" is available from December 2011.
Cradley Fair 2010 and Art Group exhibition.
ALICE! Pictures from the 2009 play Alice!







Angels May/June 2009
Players - Cradley Village Play Sep. 2007
The Boxing Day Hunt 2007 at Stiffords Bridge:






.
The Red Lion may re-open in February 2008 (after the July 2007 floods).
Pictures, courtesy of Ann C, from The Crowns of Cradley community play of September 2007. The total audience was about 1,500 with a cast of ~250, too many to mention here, but special recognition must go to David R, Bill C and Peter&Rosemary D.



The Cradley floods of July 2007



FLORAL HARMONY
CRADLEY CHURCH'S Flower Festival
June 2nd & 3rd 2007
SAT 2ND
12 noon-2 pm…BBQ 3pm…. Cream Teas
11.30-12.15…Tower Ringers ring a "Quarter Peal" (See church bells in action via CCTV)
12.15pm-1pm…Taster Session for new bell ringers
1.15-2.15…Circular Sing-a-Long (for all ages and abilities)
2.30-3.30…Hand Bell Concert….( 4 Local Bands )
Wells & Wyche WI Hand Bell Ringers
Leader ~ Linda Bagley
March of the Toreadors………..…….…….Bizet
Trumpet Voluntary…………..…Jeremiah Clarke
I have a song to sing O……....Gilbert & Sullivan ( from Yeomen of the Guard)
With cat like tread……………Gilbert & Sullivan ( from Pirates of Penzance)
On Wings of Song…………………..Mendlesohn

Monday Ringers from Stoke Lacey
Leader ~ Janet Watson
Ronde and Salterelle……………….…….Susato (from Danserye)
French Dance………………………J.F.Dandrieu
Wasp's Maggot…………………………….Anon

Cradley Bell Band
Leader ~ Georgie Buxton
John Peel………………….Traditional arr. James
The Ash Grove……..Welsh Folk Song arr. James
English Country Garden….…….…….arr. James
Prelude…………..….…Charpentier arr. Mitchell (fromTe Deum)
Theme from Jupiter…………..Holst arr. Mitchell (from The Planets Suite)
Trio from Pomp and Circumstance March No. 4 Elgar arr. Mitchell

St. Mathias Hand Bell Ringers
4 IN HAND
George Morris
Ruth Morris
Gerry Edwards
My Grandfathers Clock
Heykens Serenade
Tyrolean Cradle Song
Bells after Bach
Tallis Canon
Londonderry Air

3.45-4.15…Little Sister….(All Girl Folk Band)
4.30-5…'Lots up Top' Choir….(Three members of the world famous Ex Cathedra Choir sing popular classics in three part close harmony )
EVENING RECITAL
Gates open at 6pm….£12
Bring a picnic and enjoy a glass of 'bubbly' whilst listening to The Galitzin String Quartet( another glass of 'bubbly' and strawberries and cream in the interval ! )
Concert starts at 7.15pm,
'Songs of the Stage' by PIPPA BUXTON & ELLIE LAUGHARNE, accompanist ~ Jeanette Wong
(Glyndebourne and the West End come to Cradley in a varied programme by two of Birmingham's brightest young sopranos)
SUNDAY 11am…Songs of Praise in CRADLEY CHURCH
2pm….Organ Recital by Paul Roberts
2.30-4.00… Cream Teas
2.45-3.15… Connie & Harriett ( Music for a Sunday afternoon )
5.30 - 6.30 Choral Evensong with Worcester Cathedral Voluntary Choir. Organist…Christopher Allsop
Details from Georgie Buxton 01886 880519 or Margaret Edgar 01886 880529

---

The flowers in the church are a celebration of the delights of an English summer.
Individual displays are given by 26 Cradley organisations
| | | |
| --- | --- | --- |
| 1 | Christian Aid | |
| 2 | Art Group | There are other pictures of pictures on the Art Group, CMSAG page. |
| 3 | Baby & Toddler Group | |
| 4 | Evergreens | |
| 5 | Cradley School | |
| 6 | Heritage Group | |
| 7 | Mothers Union | |
| 8 | Neighbourhood Watch | |
| 9 | Parish Council | |
| 10 | W.I. | |
| 11 | Webmaster | |
| 12 | Cradley PCC. | |
| 13 | Bell Tower | |
| 14 | Hand Bells | |
| 15 | Cradley Church Choir | |
| 16 | British Legion | |
| 17 | Walking Group | |
| 18 | Cradley Village Hall | |
| 19 | Surgery | |
| 20 | Cradley Chapel | |
| 21 | Christians Together | |
| 22 | Cradley Singers | |
| 23 | Pilling Family | |
| 24 | Sunday School | |
| 25 | Cubs & Scouts | |
| 26 | Villages Support Group | |
Floral Harmony SPONSORS
COLWALL MOTOR SERVICES…...Citroen& Peugot Specialists Car Sales, Servicing, Repairs etc. Station Yard, Colwall 01684 540066
P. HODGKISS….…Butcher Top quality home produced meat, poultry, homemade sausages, bacon, groceries etc. Bosbury Road., Cradley. 01886 880221
F.W. SPILSBURY Independent family owned Funeral Directors Upper Howsell Road, Malvern. 01684 892777
P.J. ROWE Building & Decorating Service Property Maintenance 07815 657472 or 01886 880547
ORCHARD LODGE CLINIC…….. Improving Health Naturally Osteopathy, Acupuncture, Nutrition, Homeopathy 48, Church Road, Malvern Link. 01684 568744
BLUE GINGER Art / Craft and Inspirational Ideas Teas, Coffee, Lunches, B&B Home End Farm, Cradley. 01886 880240
SOLO SEWING…..….. Alterations, sewing, repairs, curtains etc. Bourne Villa, Chapel Lane, Cradley. 01886 880560
RICHARD BURFORD Mower repair & Services Crossways Farm, Cradley. 01886 880561
CHAPEL COTTAGE CATTERY Cattery Southend Lane, Mathon 01684 540833
MILLBANK GARAGE MOT & Service (all makes of cars) Plus Vehicle Sales 01886 880202
CRADLEY POST OFFICE & STORES….……. Newspapers, Grocery, Fresh Bread, Off Licence, Dry Cleaning, Lottery, Road Tax, Foreign Currency, Cash Dispenser 01886 880212
---
Boxing Day 2006 hunt pictures;








We hope everyone enjoyed the Church Fete on 17 June 2006. Many thanks for your support to Felicity, Clare and Sarah for their three peaks challenge in aid of Action Medical Research (the 'Marmalade Sandwiches' team). As at 1152hrs Saturday 8 July 2006 Clare reported by text message that they were off Ben Nevis rather behind schedule and on their way to Scafell. At 1732 they were about to start Scafell, all tired and hurting but still smiling. The Scafell storm did not slow the ascent, but with damaged knees they had a bad time coming off Scafell. At 0700 Sunday they were safe and well at Snowdon base camp, but had 'timed out' and did not manage to do Snowdon. They wouldn't have been allowed to climb Snowdon anyway, the Marshalls stopped all climbing around midnight due to weather! Sarah went up Snowdon for a Sunday afternoon stroll with friends!
Cradley choir weekend at Plas Llanmihangel.
On Saturday 22 April 2006 we supported the local poetry group and a harpist in an evening concert in Llanmihangel church. We then retired to a superb dinner in the Baronial Hall, provided by Sue and David Beer, very convivial! Their generosity, the quality of the cuisine, and the atmosphere of the grand house was appreciated by all.
After a fortifying breakfast Cradley choir then sang at the St George's day Sunday service. The sermon, was about the true message of slaying oppression (rather than dragons) with truth (rather than sacrificing the innocent).
Please book your holiday (or house party) with them if you ever visit the Vale of Glamorgan.
Jazz at Cradley Village Hall Saturday 18 March 2006 - organised by John Stoddard, in aid of Acorns childrens hospice. "Bring your own" supper and superb music. Pictures courtesy Judy CN:-






.
Pancake Races, Feb26th 2006. A fun afternoon for all age groups. Pictures courtesy Judi CN:-


.
VillageOfTheYear2005
A fine but cold evening was enjoyed by many for the Cradley 2005 Fireworks display. On behalf of Cradley Church PCC, Ian B "...thanks everyone who attended and helped in the smooth running of our annual bonfire event.
The event relies on participation by many volunteers and their involvement was much appreciated.
Considering the weather forecast we were extremely lucky to have had a dry evening and I am sure you will be pleased to know that the evening raised around £1,000."
Pictures by David CN.

.







Produce Show 10 September 2005.
Wind in the Willows
A selection of photographs taken during the Dress Rehearsal.





























Cradley Village Players
It was with great humility that we presented to you WIND IN THE WILLOWS
"Come with us to the River Bank and watch unfold a tale that will delight, thrill and shock. Enjoy the freedom of the Open Road/ experience the misery of the Deepest, Darkest Dungeon, brave the terrors of the Wild Wood and share the Triumph at the last. WARNING: This performance contains strobe lights and the sound of gun-fire."
Proceeds from this production and the auction of Wind in the Willows Memorabilia on 28 January 2005 will be split equally between the fund for stage lighting for Cradley School and the charity Noah's Ark.
Hunt at Stiffords Bridge 27 December 2004






The Christmas Market on 4 December 2004 raised over £1,600.
















Cradley, Mathon and Storridge Art group exhibition pictures from 23 October 2004. Text and catalogue from Bill C and Margaret W. Web catalogue completed late Friday 12 Nov.
Cradley Village Hall Open Day on Saturday 2 October 2004.
Cradley Tuesday Walkers, Walk on the Black Hill - 28 September 2004. The Cradley walkers may be interested in the aerial shots Stuart McLaughlan took a few days later of the Black Hill (Cats Back). The snaps, taken looking North towards Hay on Wye, were added to the web site on 5 October 04.
Midsummer Musical Marathon 2 Jun 04 diary
Midsummer Musical Marathon news release 2004
Car boot sale Saturday 24 April 2004 at the old school.
Cradley Parish Meeting 27 April 2004 at Storridge VH.
Boxing Day Hunt at Stiffords Bridge, the pictures. The road to Worcester , at the Prancing Pony, crossing to the the Red Lion, over the bridge, hounds leaving the Red lion, horses leaving the Red Lion, clearing the road.
Cradley Bonfire and FIREWORKS at St Katherines, the pictures. Merry go Round, Candy Floss, Drinks, Hamburgers, hot dogs & soup (mmm, Diane's enthusiastic!), Bonfire - and Fireworks! More pictures, from Roger Gill's garden 1 and from Roger Gill's garden 2.
Village Hall Fire! The roof of Cradley Village hall has been damaged by fire, these pictures were taken on Sunday 28 September 2003. Please support your Village Hall Committee at this difficult time. Front view of roof, View of roof from Churchyard, Picture by JBLD, Picture by JBLD.
The Cradley Crown Crusaders Crown Report of July 2003 has been archived and is available by personal application to the webmaster. The book Cradley - A Village History includes references to the Crown Inn.
Cradley Church Fete 28 June 2003.
VillageOfTheYear2002
Pictures of Boxing Day 2002 hunt at Stiffords Bridge.
Music festival August 2002.
2002 Newsletter Picnic Sunday 14th July
Sea Sunday 14 July, the Mission to seafarers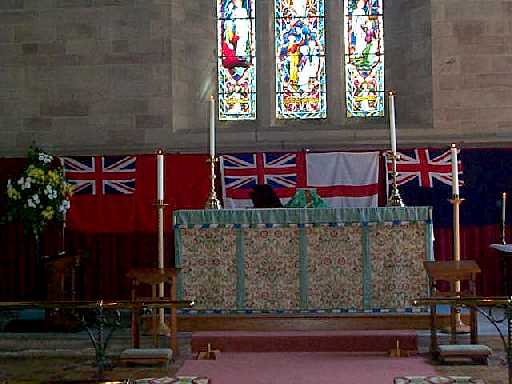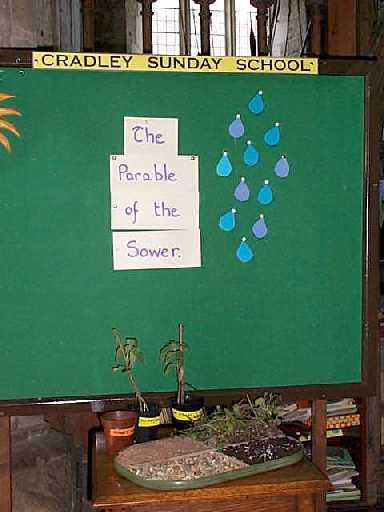 Open Gardens July 2002 event.
Jubilee June 2002 pictures.
Easter 2002 Come Fishing
CRADLEY LOCAL HISTORY EXHIBITION and BOOK LAUNCH
newprimaryschool 2002.
13 January 2002 Sunday School picnic.
Saturday 7 July 2001 Musical Fun Evening at Cradley Church.
9th June, Saturday, ProgressiveSupper2001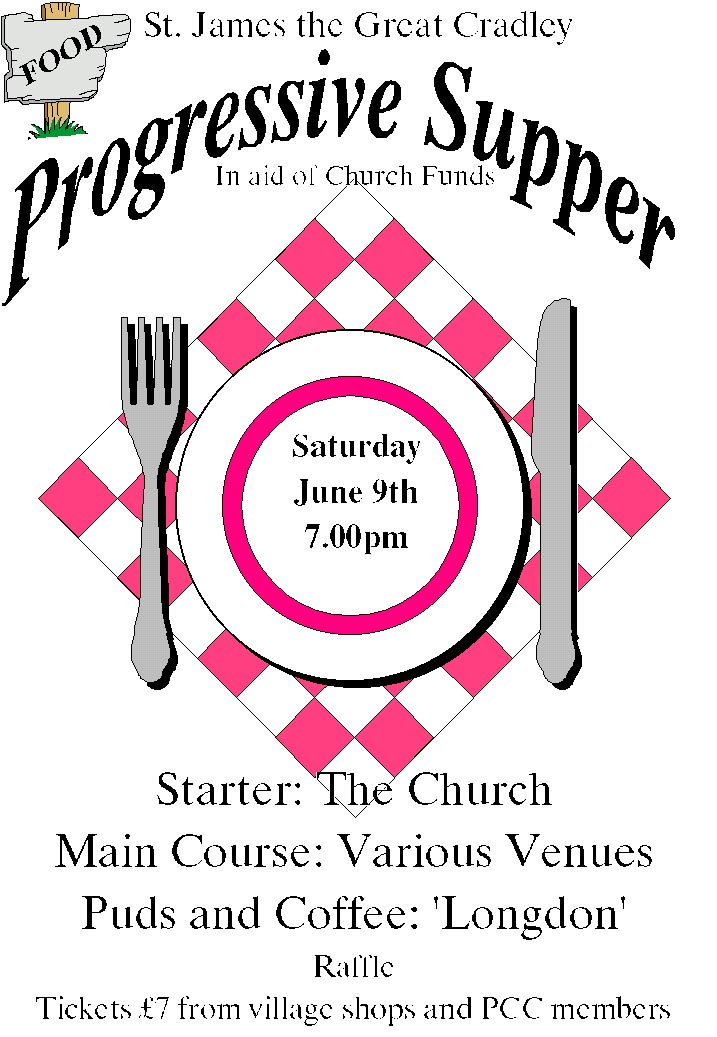 3rd June, Sunday Pentecost service
May Christian Aid week.
Children's Activity Day 12 April 2001
Christmas Message and Boxing Day Hunt 2000
A Festival of Flowers June 2000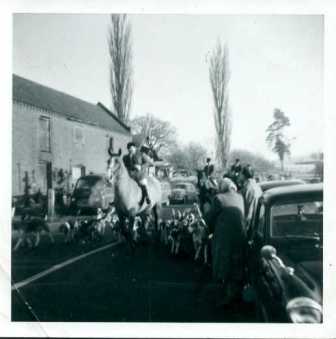 Lady Waether of Suckley outside Stiffords Bridge House for the Boxing Day hunt in the 1950s, Courtesy of Fred B, Storridge.

---